This Summer has been jammed packed with fun and exciting new projects. One of our favorites has been getting to work with Doheny Days Music Festival 2011, which is finally happening THIS weekend in Dana Point, CA.
Earlier this year, Omega Events, the group behind Doheny Days, came to us to create a web presence for the revival of this festival that has a long standing history in the Southern California music scene after a 7 year hiatus. We enjoyed working closely with the team at Omega Events to define their overall branding including logo, colors, aesthetic and general vibe as illustrated on DohenyDays.com.
In addition to creating their website, Omega Events hired us to implement a strategic Marketing and Advertising Campaign during the summer, including online advertising, give-away contests and other creative marketing initiatives. We're stoked on the success of this campaign and are loving the public's response and excitement for Doheny Days. This first year back paves the road for a successful festival for years to come.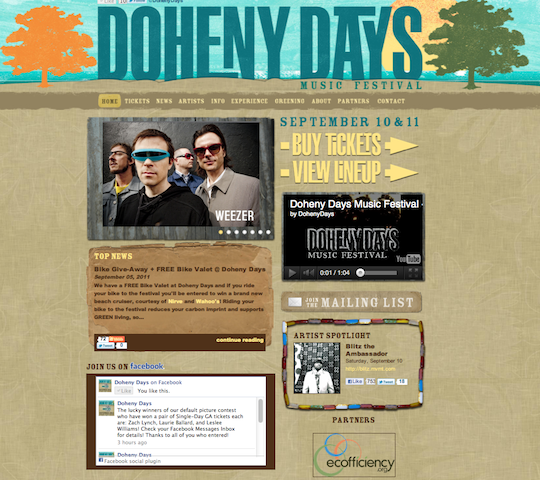 Want to know what to expect during Doheny Days? Here's a little insight into the amazing two-day festival, which is sure to end the summer on the right note!
The Doheny Days Music Festival is not just a two-day vacation in Dana Point where you can stroll around festival grounds and listen to some music. Omega Events made sure that every inch of the festival venue has something to keep festival goers stoked and entertained, in addition to bringing to them some of the best bands and artists out there. Now, I'm sure you're asking yourself, what does this total experience entail.
First and foremost, the 19 acts that are performing at the festival are not only crowd pleasers who are going to fill the air with mind-blowing sound waves, but also amazing performers who know how to get the crowd movin' and keep the energy high. Each band or artist was carefully selected and the fans seem to be responding very well - with almost 10,000 Facebook "likes", it appears as though the festival is going to be a major success!
With big name headliners such as Ben Harper and Weezer, there is no doubt that festival goers will be loving life during these two days. I mean what could be better than watching your favorite artists jam out at a sick venue right on the beach? One of the great aspects of the festival is that some locally well-known, up and coming bands are hitting the stage as well. To me, this is what makes Doheny Days special. This festival is not only a time to get out and see some of your favorite headlining bands, but also a time to fall in love with new, local talent.
But, as mentioned earlier, Doheny Days is the full festival experience. Yes, there are three different stages that will be blasting music all day and night but that's just part of the package. There are seven different areas within the grounds that provide activities, food, drinks, music, merch, and so much more. One particular area, "The Dunes," is a location within the venue that gives festival goers the opportunity to learn about local charities and see how they can make a difference. This is a great way to get involved and make the experience at Doheny Days a little more fulfilling. Not to mention that by hanging out at The Dunes, you'll also have the ability to take a picture in front of a huge Doheny Days billboard so you'll never forget this memorable weekend! Also, since the festival is kid friendly, Omega Events decided to designate a particular area within the venue for kids to play around and have fun. "The Midway" will be buzzing with people all day enjoying the rock wall, bungee trampoline, and face painting so be sure to bring any kiddos that tag along with you to this spot!

Even though we are all still kids at heart, the festival does provide more "adult friendly" areas as well. Coors Light is one of the sponsors for the festival, which can only mean good things for everyone in the venue. There will be six different Coors Light booths around the site as well as a Cox Sports Patio (for all those football fans out there), and a KROQ booth that will be giving away some great merch. Oh, did I mention that there are many VIP/Lounge pass holder exclusive areas. The Beach House, one of the VIP areas in the venue, will provide an area for VIPers to hang out, eat, drink, and listen to DJ Axel who will be spinning the hottest hits both days! Lounge pass holders will also have the luxury of relaxing at three of the lounges on site, one that is backstage behind the main Doheny Stage! For information on the entire festival, please visit DohenyDays.com
So, just two more days until the most epic weekend of the summer! Get ready for some great music, great times with your friends, and an unforgettable two days! Can't wait to see you all there! Hope you are as #down4doheny as we are!