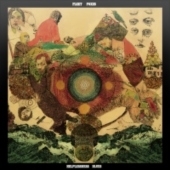 If you, like me, have been looking forward to this release for years, then the tracks on the new Fleet Foxes release, "Helplessness Blues" have most likely been gracing your iTunes libraries since earlier this year when the album leaked. But the good news is that you shouldn't feel bad because Fleet Foxes' frontman Robin Pecknold understands music piracy as a necessary (and even respectable) evil of the industry. Not to be misquoted, Pecknold poured his heart and soul into this album. So much so that he seemed almost regretful about his extreme passion for creating music in a recent front-page article for SPIN magazine.
With it's appealing hook "I was old news to you then, o-O-old, new-A-ews to you then" and classic Fleet Foxes tone, Lorelai is the featured track from the effervescent Pecknold (and Sons?) on this edition of New Music Tuesdays.
The LIFEMANFRESHMUSIC
Playlist is powered by Rdio.com



- Justin Glenn Davis



Coutesy of LIFE/|\MAN/|\MUSIC
Follow Justin Glenn Davis on Rdio.