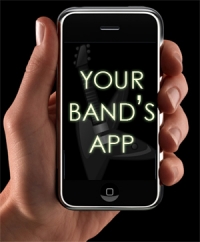 Creating iPhone apps for bands is starting to catch on. It started out with the big-budget artists (like Pink) cranking out the custom applications that probably included a hefty price tag, but now there are many solutions for "middle class" bands to develop their own apps. I will review and compare four cost-effective solutions for getting an iPhone app developed for your band.
The four companies I will be talking about are: iLike, Mobile Roadie, MobBase, and Phizuu.
Why You Should: No upfront cost. Easy setup. Auto-aggregates your content (music, photos, videos, tour dates, news) to the app from what you post or have posted on iLike.
Why You Should Not: Want a free app? iLike reserves the right to put ads in your app. For a paid app, they want 50/50 revenue split.
Development Cost: Free app: $10,000 setup [EDIT: $195.00 setup fee]. Paid app: 50/50 revenue split. No monthly fee!
Example Free App: Kottonmouth Kings
Bottom Line: While iLike is a quick and dirty way to get something in the app store, it's not the best you can get if you have a small budget.
Why You Should: Awesome features include: Fan Wall and Social Login. Fan wall lets users interact with each other within your app. Social login lets users login with either their Facebook or Twitter account to post comments or photos, which is then included on their news stream, bringing more buzz to your app. Push Notifications are also great. Communication is key! [EDIT: Was just informed that Mobile Roadie also does geo-targeted push notifications down to one mile around any postal code or address in the world. This is a huge feature (see my comments below on Phizuu's)!]
Why You Should Not: It's a little pricey, depending on your budget.
Development Cost: $499 setup and $29/month.
Example Free App: Taylor Swift
Bottom Line: Mobile Roadie builds a solid app if you have the money to spend on it. In addition to the points listed above, they have a lot of great features, and can even do some custom development on top of their app platform for you.
Why You Should: Easy setup. Inexpensive setup, and reasonable monthly cost.
Why You Should Not: The only feature that really stands out to me is when they say "Give your fans mobile access to your merch store", but on closer look it reads "put in a link to your merch store".
Development Cost: $20 setup and $15/$20 per month.
Example Free App: Rebelution
Bottom Line: It's inexpensive and gets the job done, but probably not with any wow-ing results.
Why You Should: Although it isn't prominently listed on the website, I got a tour of the app's capabilities while at SXSW last week and was blown away with the geo-targeted Push Notifications feature. If you are in one of the higher level app packages (see pricing below), you can send out a push notification to users within a specific area. When users open the app for the first time, it will ask if the app can know their location. Best use of this? Send out a message to your fans within 50 miles of your venue that night to tell them to come down and bring their friends. Awesome communication potential.
Why You Should Not: They are a new player to the iPhone app game and have focused their market mostly on DJ's, not that either of these are necessarily bad things. Time will tell how the company's product will hold up to its competition.
Development Cost: Free/$199/$299 setup and Free/$9.99/$29.99 per month.
Example Free App: Markus Schulz
Bottom Line: Phizuu is a good option to explore. The geo-targeted push notification is a huge feature.

Any information out-dated or incorrect? Please email me and I would be happy to make any updates!