ONIRACOM WEEKLY | ISSUE 2
CATCH THE BUZZ AT ONIRACOM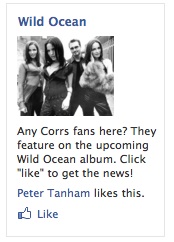 Peter Tanham of Amp Music Marketing writes, "When we start working with any musician, two of the most important goals we start with are:
1.) Build a strong mailing list
2.) Build a popular Facebook page
Fans are going to be more comfortable interacting with the artist through these mediums, and they are also the ones that drive the most sales."
Highlights from this article include:
The importance of Facebook Ads

Implementing effective Facebook Ads
1.) If You Like Those Guys… it's called a "power play," pick musicians that are similar to your style and pay to be played to their fans.
2.) Building A Good Landing Page: make sure your Facebook ad redirects them to a customized landing page which will encourage them to click the "like" button with some incentive to hear or get your music. Make sure it is the most similar sounding music to the artist you referred to in the "power play."
3.) Target Your Ads… and run multiple campaigns!
4.) Ask Questions. Encourage Clicks and Likes - (reference pseudo ad image on the left).
Read More…
Post Comment