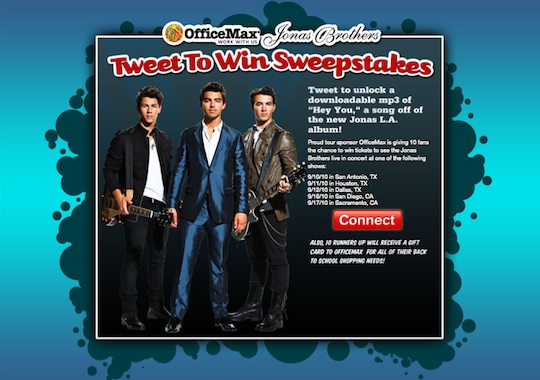 The Jonas Brothers, that enthusiastic and phenomenally successful tween sensation, has joined together with OfficeMax in a sort of powerhouse Twitter promotion to incite fans to tweet in order to receive a free download off their new album and be entered into a free concert ticket promotion.
The sweepstakes reflects the legitimacy of Social Media promotion tools and the inflow of major artists into such mediums. A far cry from a simple "click Like" type promotion found on Facebook, the Jonas Brother Twitter promotion actually has a unique website dedicated solely to the sweepstakes.
It is a cross promotion twitter site, run by PromoJam, one not only dedicated to the diffusion of Jonas Brother product, but to another promotion associated with OfficeMax. A sort of one-two punch if you will, with Fanscape behind it all. With the incentive of free music, fans in turn promote an OfficeMax free tour ticket contest. No doubt the OfficeMax sponsorship is in relation to "back to school" season, with the name OfficeMax connected to the Jonas Brothers in hopes to have kids associate the "cool band" with a supplier of much needed binders and notebooks.
Read More…
Post Comment