This Summer has been jammed packed with fun and exciting new projects. One of our favorites has been getting to work with Doheny Days Music Festival 2011, which is finally happening THIS weekend in Dana Point, CA.
Earlier this year, Omega Events, the group behind Doheny Days, came to us to create a web presence for the revival of this festival that has a long standing history in the Southern California music scene after a 7 year hiatus. We enjoyed working closely with the team at Omega Events to define their overall branding including logo, colors, aesthetic and general vibe as illustrated on DohenyDays.com.
In addition to creating their website, Omega Events hired us to implement a strategic Marketing and Advertising Campaign during the summer, including online advertising, give-away contests and other creative marketing initiatives. We're stoked on the success of this campaign and are loving the public's response and excitement for Doheny Days. This first year back paves the road for a successful festival for years to come.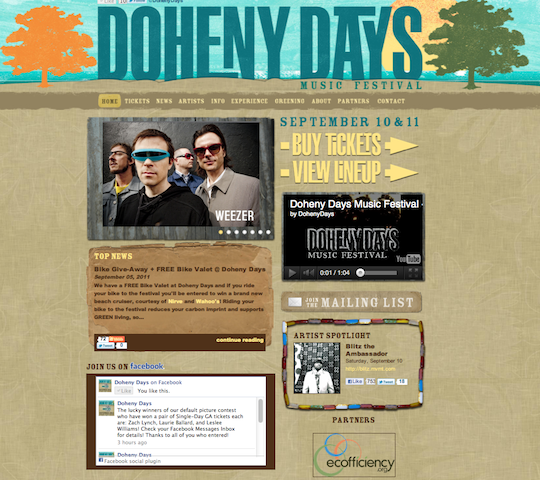 Want to know what to expect during Doheny Days? Here's a little insight into the amazing two-day festival, which is sure to end the summer on the right note!
Read More…
Post Comment