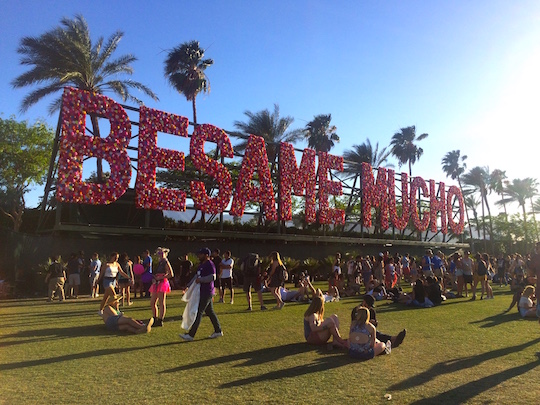 Coachella Valley Music and Arts Festival brings in around 100,000 people into the desert city of Indio, California for two back-to-back weekends in April. This year I got to witness the music mayhem first hand during Weekend 1.
Coachella has seven stages: Coachella, Outdoor, Gobi, Mojave, Sahara, DoLab, and Yuma. But 2016 introduced an eighth one called the Despacio, an acoustically-perfected indoor space designed by James Murphy of LCD Soundsystem and Belgian duo 2manydjs and engineered specifically for vinyl. The funky old-school tunes of the Despacio brought something new and exciting to the festival.
Besides music, giant artistic pieces decorated the polo fields functioning as Instagram backgrounds, group meet-up locations, and obviously as art itself. Some notable pieces this year were the "Besame Mucho" installation made entirely of flowers and bright yellow Katrina chairs which represent the cramped living situation for the natural disaster survivors.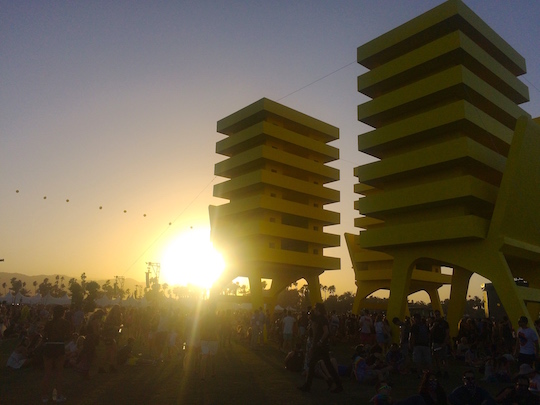 Most people come to Coachella for the music though—or at least that's why I did, so let's recap some of my most memorable acts:
Goldroom
Although Josh Legg became famous as a DJ, he played a live set with a full band on Friday in the Gobi tent. Goldroom performed fan favorites like "Waiting To Ignite," "Embrace," "Fifteen," and "Mother Protect." Nikki Segal sang all of the female vocals with Josh on the male leads. The final product was a dreamy, upbeat set that fit perfectly for those Coachella vibes.
A$AP Rocky
The most anticipated set for me, but also the most disappointing, A$AP came on 20 minutes late apparently due to production issues with his LED screen and the high-speed winds of that evening. Once on, A$AP strayed away from his older, popular music and instead focused on songs from his latest album At. Long. Last. A$AP., which has much lower energy. But then he brought out Kanye West! Only one problem: his microphone didn't work. The music stopped awkwardly afterwards indicating that the festival had cut his set off. Overall, so much potential but poor execution.
Ellie Goulding
Although she didn't perform my favorite song, "Something in the Way You Move," Ellie Goulding's set was a nonstop stream of pop hits. The Coachella main stage was packed, and Ellie delivered. She showcased her beautiful vocals especially during an acoustic piano version of "Lights."
Gary Clark Jr.
Even if you don't know Gary Clark Jr. beforehand, seeing him live you will get to know him. He puts his heart and soul into every word he sings and every chord he strums. The guitarist demonstrated he knows how to rock and rep the blues, shredding solo on "When My Train Pulls In." Catch him at the Santa Barbara Bowl on September 30th! Details here.
Disclosure
And the award for the most surprise guests goes to… Disclosure not only impressed its fans with a high energy and quality set but also with its star-studded cameo appearances by Aluna Francis of AlunaGeorge, Lorde, and Sam Smith (just to name a few). Ending with "Latch" was the cherry on top to a perfect performance.
Guns n' Roses
They still got it. Axl Rose, although in a wheelchair (aka David Grohl's rock n' roll recovery throne), managed to keep his pitch and the crowd's engagement throughout the three-hour set. Because of the lengthy set, I only got to see a portion of it. But even just thirty minutes of watching GnR was enough to solidify their performance into one of my top favorites.
Bob Moses
The electric duo was the surprise closing set at the DoLab on Day 3. Jimmy Vallance mixed the bassy mood beats while Tom Howie played guitar and sang live. Check out part of their set below. By far, the best way to end a magical weekend.
Overall, despite a few battles with allergies, my Coachella experience was amazing. This festival is unique because of its diversity of music, people, and activities. I recommend that everyone tries to attend at least once in their life. I also recommend trying the paella and spring rolls once you get there. They're delicious!