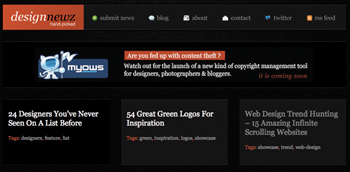 From SmashingMagazine.com to DesignBump to Magazine sites like Print and CMYK, there are tons of great design resources out there. But lately, there is one resource that has been providing me with more exciting content and educational articles than any other, Design-Newz.
Design-Newz, which was built and is run by the guys over at Spyre Studios, is an invaluable resource for any designer. It hosts a virtual library of design blog posts. Basically, they search the web for the latest and greatest design articles and then post links to those articles on their project website Design-Newz.com.
To help promote the blog posts, they employ twitter. I follow them on twitter and get their regular tweets linking to hundreds of different design blogs with high quality articles that offer free brushes, photoshop tutorials, and inspirational collections of work by designers. Thus far, they've been a wonderful and welcome source of inspiration as I've worked on our company's websites.
Their work and their site exhibits four things that inspire me: A unique idea, Fantastic quality, Regular and consistent updates (they commit to at least having 5-10 updates a day), and a humble attitude that seeks to promote great work over purely personal gain.
Go follow them on twitter and start learning.