Facebook has rolled out some new privacy settings today in hopes to put their millions of users' minds at ease. Also, maybe to shut a few people up, but that's wishful thinking.
Facebook CEO, Mark Zuckerberg, said the new settings will give users "one simple tool" to control how their information is shared - with friends only, with friends of friends or with everyone. "All of the controls we had are still there if you want to use them," Mr. Zuckerberg said. "But we just wanted to make it easy for people who want to put themselves in one bucket very easily with just a couple of clicks."
Basically, the privacy page got redesigned so that it's no longer confusing AND controversial. For example, a single click will now let users block all of their information from being accessed by third parties, such as game or application developers. In the past, users had to go on a little treasure hunt to find and turn off this setting. Applications will also have "dramatically less access to your information by default" according to Zuckerberg.
Another noteworthy change - the information that is shown when someone searches for your name is now different. In the past, Facebook would show your name, gender, hometown, activities, profile photo and networks. Hometown and activities will now be private.
The controls are definitely more simple but unfortunately not private by default. You still have to seek out privacy settings and change them if you care about controlling who sees what.
If you're too lazy to do that or don't really care about all this privacy nonsense you can opt to use facebook's "recommended" settings. Judging from their track record I'm sure they'll have good recommendations.
Check out Facebook's Privacy Guide here.
Old Privacy Page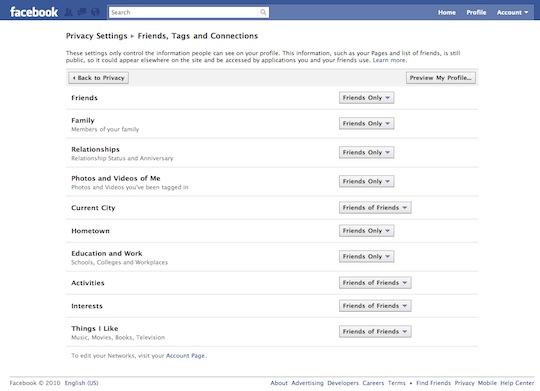 New Privacy Page