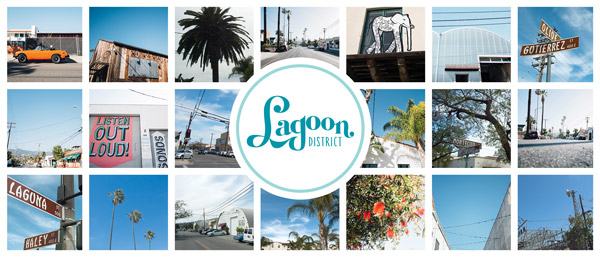 In a rapidly growing economy full of cultivating ideas and start-ups, Santa Barbara has become a main vessel for small businesses. Locally known tourist areas such as the Funk Zone and Downtown, have become popular vacation spots. With the East side of Santa Barbara seemingly forgotten, it has become a perfect opportunity for local small businesses to nestle up and command their space. The native community is small and interconnected. Businesses are known for supporting each other and word travels extremely fast.Pure Order Brewingcompany, PlayBack Recording Studio, and Oniracom are three entrepreneurial companies located in the upper side of the Funk Zone who are sparking a cultural rebirth. Oniracom has teamed up to revivify the lower East side town as, The Lagoon District.
The Lagoon District historically inherited its name from its rich past. During the 1860's, there was an effort to drain the shallow mosquito infested pools that covered the lower Eastside area. A canal in between Salispuedes and Laguna streets was dug in an effort to drain the water and uncover the fertile soil. The drainage ditch is no longer visible, but was known as "Canal Street". In 1922 the name was changed to the current name Olive Street after olive trees were planted in the remains parts of the drainage ditch. The area between Ortega, Milpas, Haley and the Olive Streets were used for many years as a dump and disposal area. Efforts in the 1920's to revitalize the forgotten area, led to the establishment of the well-known places such as Ortega Park and Santa Barbara High School. The culture of the area during this time was condensed in communities known to the Italians, Mexican, and even Chinese heritages who claimed their own parts of the town. Places like the 1870's Chinatown, which was centered along the first block of East Canon Perdido, no longer remain. But, rich Chicano culture can still be seen around streets like Milpas. Eastside is home to La Casa de La Raza, the political offices of the surrounding Latino population, and the Moorish-Byzantine-Spanish County Courthouse, which is a architectural hidden treasure. Santa Barbaras Eastside is unique as it contains no apartment complexes and condominium's that are extremely common in the surrounding city neighborhoods. There is a voted maximum population of 84,000 that keeps exclusivity and a small-town vibe, the perfect conditions for endorsing small local businesses.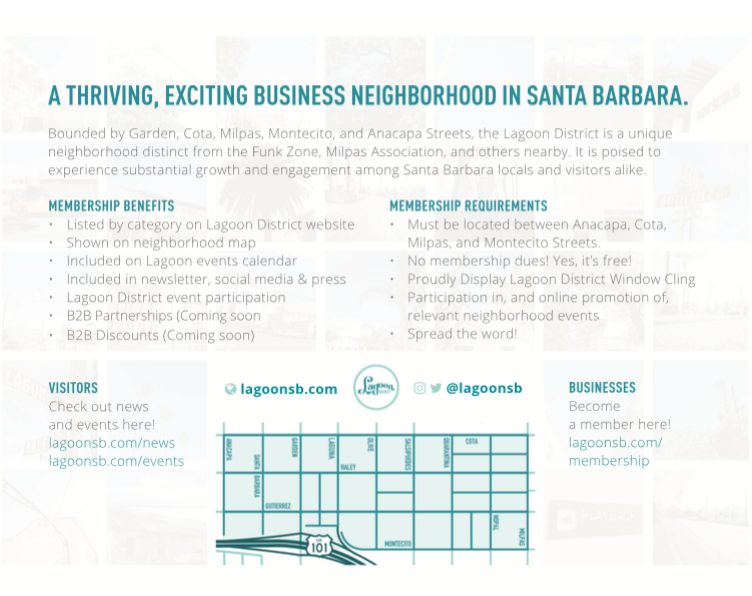 The district is a small area bounded by Garden, Cota, Milpas, Montecito and Anacapa streets. Within this parameter, we want to create a space for businesses to escape the overpopulated Funk Zone and uphold traditional SB values which are casual, laid-back, and more importantly, local. The benefit of this zone is an increase in business through an interconnected network of community members. Through supporting one another we can increase the Santa Barbara reputation of providing diverse brands and excellent opportunity. Without the "LA culture" of big businesses, the Lagoon District will remain eco-conscious and explorative while maintaining a local agenda. Lagoon District will showcase local companies through promotions like, the Lagoon Loop Craft Beer Trail which allows visitors to tour craft beer breweries including the legendary Telegraph Brewery.
Businesses who sign up with The Lagoon District will be featured on the site map and marketed to customers and residences around the area. Events and sales that Lagoon District companies decide to promote will be illustrated in the newsletter, social media, and press. Being a part of The Lagoon District allows businesses to use B2B partnerships and discounts for collaboration. Partners can build relationships with other business owners while sharing relevant techniques and strategies.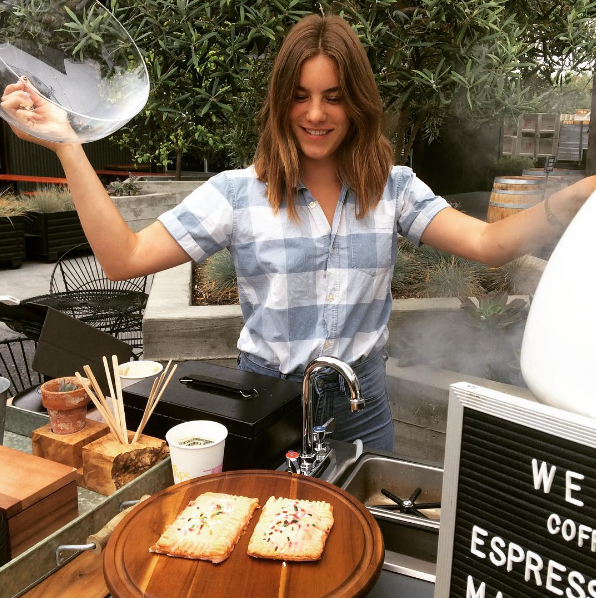 Welcome Coffee Cart, is a Lagoon District showcased company run by June Haupts. After working for as a barista for the French Press, June decided to embark on manifesting her own dream, her own coffee business. June now uses her mobile cart to sell coffee and delicious homemade treats around areas including The Mill. We are proud to welcome June and Welcome Coffee Cart to The Lagoon District where she can grow her business and network with her Santa Barbara working customers. You can find June working at the nearby Mill from Monday-Friday 8-3pm or contact her for special events and parties.
Current members of the Lagoon District include Potek Winery , Apeel Sciences , Santa Barbara Bar , Suissly Furniture, Deux Bakery , Pelago Web Design , and SB Training facility. The diversity of members is increasing as the Lagoon District solidifies into the new web of community supported businesses, offering services guaranteed to support the larger Santa Barbara community. Sign up now to become a member of the fest growing area as we aim to appeal those who think locally to grow our inclusive community.