Oniracom Top Threes
We recently returned from an insane ten-day trip to Austin, TX for this year's main event in music and technology: SXSW 2012. SXSW (Pronounced "South by Southwest," or simple "South by") is a massive festival/conference gatherings of tech, film & music professionals, entrepreneurs, and enthusiasts. This year's SXSW saw its high points and higher points.
Top Three Brands
At Oniracom we truly prize the value of innovation and forward-thinking in the ever-changing environment of consumer technologies. There were a few brands at SXSW who stuck out in my opinion.
1. American Express - Amex Sync
American Express poured a lot of money into a marketing campaign to promote their new "sync" capabilities. American Express offered cardmembers a $10 credit for simply syncing their Amex Card with their Twitter and/or Foursquare accounts. The registration process was easy enough, although it wasn't exactly clear that the maximum discount available for syncing was $10. I used my Amex card to make a few purchases while I was in Austin, and sure enough, I received a $10 credit on my account. Sadly, although there appeared to be additional discounts at select venues on Foursquare, the Amex team recently informed me single $10 credit was the maximum available credit from both Twitter and Foursquare American Express promotions. But still, who can argue with free money?
2. Nokia - "Nokia Lab" (Fader Fort)
Nokia, the finnish electronics manufacturer, was at SXSW this year to promote their new phone the Nokia Lumia 900. The phone was interesting enough with a sleek design and questionable polyurethane body. Moreover the construction of the dome/bubble lab piqued my inquisitive nature. The inside of the bubble did not disappoint. Attendants "of age" were handed test tubes of Vodka Cranberry or some variation of the classic drink. The wristband had two complimentary drink tickets attached to be used at full bar featuring the "Lumia Liquified," their signature drink. The Lab was also the "Fader Fort" Fader magazine's SXSW staple venue, which played host to several DJ performances throughout the week. Overall it was a fun and unique experience with a futuristic albeit sterile vibe.
3. Nike - NikeFuel Lot
Nike made a brilliant show of things at SXSW 2012. Because of my tight schedule I was not able to stop into the lot for any activities, but the display alone was a spectacle. A temporary recreation area was erected on a vacant parking lot, complete with a skate park and mini sports field. Later on in the week I saw my first Nike+ FuelBand on someone's wrist. The FuelBand is an incredible feat of engineering. The individual who kindly let me try on his FuelBand informed me that purchasing and wearing the FuelBand acted as a VIP credential for all of the Nike/VEVO shows during SXSW. What a great idea! For less than the price of a day pass to the SXSW music festival, you could own the hottest new Nike product and get priority access to Nike sponsored events. Had I known that, I definitely would have bought a FuelBand. I guess I will just have to wait for the national release.
Top Three Big Bands
Although known for its showcasing of the hottest up and comers in music, SXSW also plays host to big names who show up every year to shake things up a bit. There were last minute showcase appearances and sponsored shows from the likes of Jay-Z to Eminem & 50 Cent, to Bruce Springsteen and the E Street Band. This year I managed to catch a few noteworthy headliner performances.
1. Nas
What more can I say? Legendary hip-hop artist Nas performed his hit album "Illmatic" in its entirety accompanied by a select few of the album's original collaborators, including DJ/Producer DJ Premiere and rapper AZ. You can view a video of Nas performing "N.Y. State of Mind" here http://youtu.be/wShck-vqCLw?hd=1.
2. Delta Spirit
As veterans of the California indie music scene, this was definitely not Delta Spirit's first appearance at SXSW. However, the band chose to release their highly-anticipated third LP self-titled "Delta Spirit" the week of SXSW. At a show sponsored by HypeMachine and TacoBell (free Doritos loco taco supreme. mmmm), Delta Spirit headlined for a crowd of ultra-excited fans aching to get a taste of the band's new material. Delta did not disappoint. Their performance was electric and inspired. They mixed a few classics with some of their new tracks and kept the crowd going for the entirety of the set. Unfortunately, encores are prohibited at most SXSW shows for the sake of time. Otherwise they would have been rocking into the wee hours of the morning. Stream Delta Spirit's self-titled album here http://stream.deltaspirit.net/.
3. Skrillex v. 12th Planet
It was a friendly battle to say the least. The always energetic performance of Sonny Moore aka Skrillex and his mentor L.A.-based producer and dubstep DJ 12th Planet raised the non-existent roof on the Mowhawk Patio friday night. Head-banging, jumping, and two-stepping their way into the hearts of young people everywhere. Electronic Dance Music is finally making its mark in America. Skrillex is a large, yet slightly controversial reason why dance music has gotten so big in the states. Check out this image from the showcase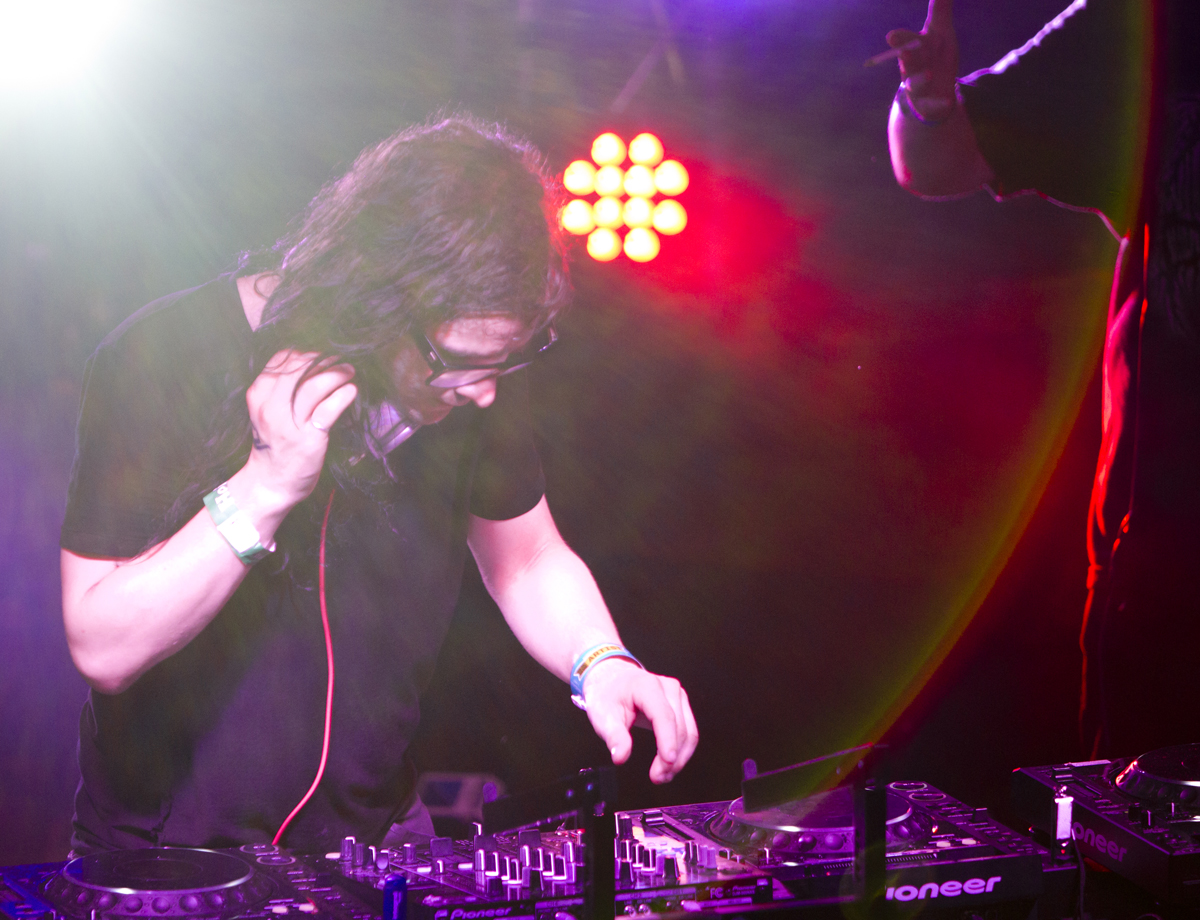 photo by Roger Zhang.
Top Three Bands to Watch in 2012
Some you've heard of, some maybe not. These are my Top 3 bands to watch in 2012. They're sure to make a splash this year, showcasing their songwriting and musical talent, coupled with authentic and exhilarating performances.
1. Bad Rabbits
Their prolific blend of Funk, Soul, Rock, and Smooth Vocals make Bad Rabbits an irresistible force of nature. It took no longer than 30 seconds of performance for listeners to become fixated on the band's "Doo-wop" style movements and rock and roll energy. Bad Rabbits are the real deal. I am going on record saying they are going to absolutely explode and will soon be collaborating with the likes of ?uestlove, Jay-Z and John Legend. Check them out and download their music for free at http://blog.badrabbits.com/music.
2. Fanfarlo
Far from what you would classify as a baby band. Fanfarlo have yet to experience true commercial success in the US. Following the trail blazed by US indie rockers Arcade Fire; Fanfarlo achieves a genre-defining full-bodied orchestral indie pop sound with a mere five-person effort. Fanfarlo are truly a sight to see. Their songs are smoothly executed by five multi-instrumentalists all sharing the load of producing a philharmonic rock sound. If you have the opportunity to see this band live, I strongly suggest that you go. Check out some of their videos here http://www.fanfarlo.com/video.
3. Kimbra
You may know her from her powerful and spunky vocal cameo on Gotye's astronomical hit "Somebody That I Used to Know," but this little Kiwi can please a crowd. Hailing from New Zealand by way of Australia, SXSW was Kimbra's Live US debut; the young woman did not disappoint. Kimbra performed in chic costume, permeating the stage with an aura of lightness and attractive-quirk. Her backing band was comprised of talented 90's-themed instrumentalists, complete with a drummer rocking a tight 2-ft-tall "flat-top." The scene was something straight out of "The Max" in Saved by the Bell, which was delightfully contrasted by Kimbra's strong vocal performance. This up and comer will no doubt be charting in the US very soon; with her first stateside release slated for summer. Discover more at http://www.kimbramusic.com/.
- Justin Glenn Davis
Follow me @JustTheDavis.