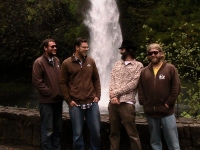 In the several months before I moved out of Santa Barbara last October, a band emerged on the scene to reignite my hope for the rebirth of the local musical landscape. Not since Matthew McAvene teased me with a few smoking sets in early 2007 had I felt the spark of any new, home-bred talent. All it took was one performance by Howlin' Woods on a Friday night at Cold Spring Tavern to convince me that these guys had the goods. They could jam fiercely, led by the sinewy guitar voodoo of Griffin Chetakian. The rhythm section of Matthew Farrington on drums and Brian "Solar B" Chandler on bass (and keys) was rugged and raw, yet with an intuitive grace. A lot of bands can jam. These guys came across as the total package thanks to the presence of a true frontman. Jordan Chetakian – a powerhouse vocalist with some acoustic guitar chops to boot, boasted a dynamic range. He could rain down with the back-alley blues, bust out a little Sly Stone soul and woo the ladies like a tormented indie rock icon. Offstage he was just an unassuming, plaid-shirt wearing dude with glasses which made his spotlight transformation all the more profound.
I'd been hearing good things about Howlin' Woods since I left town. A couple weeks ago, the band embarked on its first tour up the West Coast. Making stops in Berkeley, Arcata and Eugene, among a handful of other cities, they received warm welcomes at almost every venue, despite their relative obscurity. These guys are in their 30s and it's not so often lately that late bloomers like them have the brass to load up in a van and hit the road like hungry teens. Their tenacity was rewarded until they got up to Northern Oregon where a few of us SB ex-pats in Portland made the hour drive out to Hood River to show our support. Even though it was a Friday and the show was free, it seemed a stretch to imagine the Trillium Café would come alive in the sleepy, kiteboarding Mecca on the Columbia River.
They band didn't go on until almost 10:30, playing before a crowd of a couple dozen at best. Those who were there clearly loved what they heard and the squeals of one woman in particular accounted for many. However, it had to sting a bit when the bar suddenly filled with a huge influx of revelers only minutes after Howlin' Woods played its last notes of the night. I've got to hand it to them though. Despite the lack of bodies, they didn't hold back, unleashing two brilliant, if brief, sets. It always impresses me when bands can shrug off an empty house and let their creative juices flow, or at least treat it like a productive practice session. The quartet's stylistic versatility was nothing short of remarkable, especially how they hopped from one motif to another in seamless fashion. When they injected a dub-style cover of The Beatles' "Don't Let Me Down" amidst their rock-solid catalogue of originals, we all stood with a sense of awe. John Lennon would have been proud of Jordan's heartfelt inflection.
The second set showed off the Woods' prowess as a dance band, as Solar B's funky keys serpentined around Griffin's snake-charming guitar, punctuated by Farrington's primal pounding. A small, yet passionate pod of groovers provided some energetic symbiosis. Cutting the set short a half-an-hour too prematurely (what happened to the days when all bands wanted to play as long as they possibly could), the band was all smiles and optimism. The next night would be the tour's last and how could they go wrong playing for free in one of Portland's hippest neighborhoods on a Saturday night? Well, what they probably didn't account for is that Portland might be the nation's capital of high-grade pro bono music. No one knew Howlin' Woods from Adam so Mississippi Pizza might as well have had tumbleweeds blowing through. When the night started out, it had all the promise in the world as the band had graduated to an actual stage in a very cool venue (despite the fact that it happened to be a pizza pub; hey, the Grateful Dead got their start at Magoo's Pizza Parlor).
Only a few songs in and it was apparent that the wheels were starting to come off the train. Marred by imbalanced sound, lack of fan interest and a general malaise, the resiliency which had driven the Woods' the previous night evaporated into the crust-fumed air. Jordan sounded hollow and Griffin sluggish. Brian and Matthew did their best to hold up their end of the bargain but one can only go so far when getting little in return. With a half-hour left in their set, the band threw in the towel as Jordan wandered offstage, followed soon after by his brother. Griffin relinquished his instrument to Sean de Gregorio – the guitarist from the opening band Klickitat. Hopefully he didn't swallow too much pride as the younger axeman showed him up while jamming with Howlin' Woods rhythm section (for what it's worth, Klickitat, a local band, couldn't must an audience either). It was a bitter end to what had been such a promising tour. I felt bad for the guys as they piled back in to their cramped van to make the long voyage home.
I don't want to knock Howlin' Woods. I love them as musicians and people and think they have the potential to be great. The moral of the story here is that it's harder than ever to make it as a band. The value placed on fine musicianship or raw talent is more marginal than ever. Traditional radio rarely plays their type of music, CD sales are virtually nonexistent and people don't want to pay much or anything at all to go see a concert if and when they even drag their asses off the couch. Hell, even when it's free you might be playing to an empty house. It's a brutal business but these artists push on because they don't want to let go of their dream. They see so many bands with a fraction of their talent who got a lucky break and are now raking in the millions. Plus, the alternative is typically working crappy, dead-end jobs so it can't hurt to keep on trying. Or can it? These guys in Howlin' Woods aren't getting any younger and they know it's now or never. They have to be able to shake off their bumps and bruises and get back on the horse. I see that they have a nice lineup of shows scheduled in and around Santa Barbara and hopefully they can continue to build on the momentum they've already generated. Why can't it be them who defies the odds and rises to the surface?