Images leaked Tuesday by Android Police supposedly show the long-awaited joint effort of Google and Youtube. The new service, titled Youtube Music Key in the screenshots, will also mean changes for Google's existing service: Google Play will reportedly become Google Play Music Key.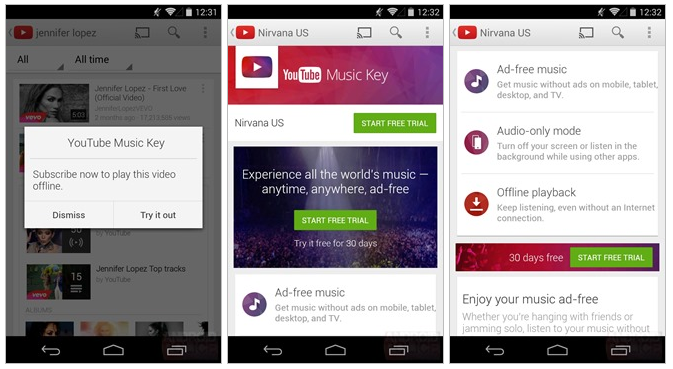 While i'm still not entirely seeing the appeal of yet another music subscription service, many of the features do seem interesting:
- A free trial month will be offered, and thereafter $9.99/month
- At least 20 million music tracks in the music library available to users
- Additional content such as concert footage, covers and remixes
- Offline playback of music videos and songs with audio-only option for background and screen-off listening
The most interesting claim in my opinion is the statement that all of this can be done "without an Internet connection" and the options for screen-off listening. However, i'm still unsure if this is enough to set it apart from the already existing services such as Spotify, Beats Music, and Google Play and draw users to pay for the service.
There is still not word on when any of this will be released or a predicted launch date, so we will have to wait and see how the final product develops and if it's anything like the leaked images.