Hey everyone,
We are proud to announce Solutions for Dreamers : Season 3, the latest benefit compilation CD from Oniric Records, is now available on iTunes!
All proceeds from the album are being donated to The World Food Programme (WFP), an incredible organization that fights hunger worldwide. The album features the single "A Step for Mankind" by legendary band The Wailers, featuring Duane Stephenson and Bishop Lamont. Thirteen great tracks are accompanied with factoids about world hunger and The World Food Programme, showing this album's strong passion to creating a difference in this world by taking care of its inhabitants.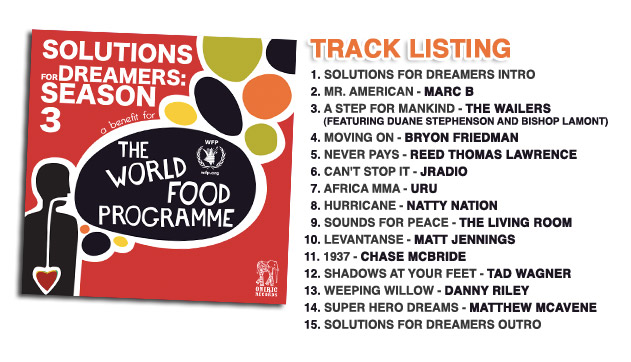 Pick up the album today and know your donation is going directly to fight world hunger. If you would like to buy the album directly from us, you can do so here! You also have the choice to download the album in high-quality MP3, Apple Losless, or FLAC. We like high-quality sound. : )
We at Oniric Records would like to thank each of these artists for their passion to fighting world hunger and for their generous time and effort in creating these tracks for our compilation. Each of these artists is generously donating the proceeds of their track's sales to WFP, so we strongly recommend you go support these artists and buy more of their music if you enjoy it!
Thank you for listening, and we genuinely hope you enjoy.
Sincerely, The Oniric Records Team
We want you to be able to sample a free track from the album,
click here to download Mr. American by Marc B!