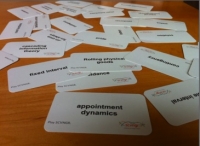 I just watched a fascinating TED talk, titled Seth Priebatsch: The game layer on top of the world, that really struck a chord with me.
Here's the TED description of the talk:
By now, we're used to letting Facebook and Twitter capture our social lives on the web—building a "social layer" on top of the real world. At TEDxBoston, Seth Priebatsch looks at the next layer in progress: the "game layer," a pervasive net of behavior-steering game dynamics that will reshape education and commerce
Here's why it's interesting to you:
Anytime you are looking to get interaction from your fans, you need to think of it as a game.
When I first started watching the talk, I didn't think it would be that relevant to my work, as I don't consider myself in the "gaming" industry. But the point that Seth really capitalized on is that the last decade has been all about 'social'; this next decade is all about 'games'. These aren't your traditional games that you would play on a board, television, or a computer screen—these 'games' are small ideas that capture a users interest and influences behavior.
Example in the music industry:
Let's take Topspin's Email for Media widget. Think of this small widget (click for example) as a game. The prize for winning is a free mp3. How do you win? You put in your email address. That's it. The fan will do this because they like prizes, or they are curious and happened to click through the widget to see how it worked to get the free song, and ended up signing up for your mailing list and downloading the free song.
Another example:
Facebook's recent technology has allowed pages to hide content from non-fans, making them "Like" the page in order to access the content (click for example). In this example, there is a behind the scenes video featured, but if you are not a fan, you can't watch it! Now your curiosity is played to, and even if you don't really like the artist, you want to see what the video is about, or how the system works. The small action a user takes to "win" is a simple click of a button, but the fan engagement has then begun and this person is now a fan of the page and you are able to continue a relationship.
Again, the lesson here is: Anytime you are looking to get interaction from your fans, you need to think of it as a game.
In the TED talk, Seth discusses that there are specific dynamics that you can combine in order to influence user behavior. These are incredibly useful in determining how to make a successful campaign.
Here are two example Game Dynamics (view the full list of 47 dynamics here):
Game Dynamic: Achievement
Definition: A virtual or physical representation of having accomplished something. These are often viewed as rewards in and of themselves.
Example: a badge, a level, a reward, points, really anything defined as a reward can be a reward.
Being Used in: Foursquare, users are motivated to earn badges by checking in more frequently.
Game Dynamic: Appointment Dynamic
Definition: A dynamic in which to succeed, one must return at a predefined time to take some action. Appointment dynamics are often deeply related to interval based reward schedules or avoidance dyanmics.
Example: where if you return at a set time to do something you get something good, and if you don't something bad happens.
Being Used in: Farmville, users return at fixed rates (6hrs, 8hrs, etc) to water their crops and have them grow, or else they wilt.

For each social-engagement campaign that Oniracom runs, we will be looking at these Game Dynamics to really ascertain how to influence user behavior in order to have fans interact with content in a creative, engaging, and (most of all) fun manner. It's win-win in a game like that.
If that article interested you AT ALL, you really need to watch this TED talk. It's only a little over 10 minutes, and Seth is very energetic and entertaining to listen to: