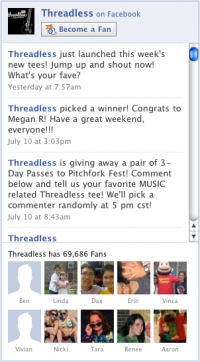 Over 8 million users become fans of Facebook Pages every day to connect with their favorite public figures and organizations and get updates directly in their streams. Now, users can connect with brands, musicians, celebrities, businesses, and more, whether they're on or off Facebook.

Today, we're excited to launch the Fan Box, a Facebook Connect-enabled social widget that Page owners can add to their websites to allow users to fan and view the accompanying Facebook Page stream. With the Fan Box, brands can bring content from their Facebook Page into their website and help convert website visitors into Facebook fans. Users can view the most recent posts from the Page, see a list of other fans (including their friends), and, most importantly, become a fan without leaving the site. Additionally, if a user visits the site and isn't logged in to Facebook, the user can log in and become a fan directly inline as well.
How does this relate to Oniracom?
Others implementing the Fan Box on their websites today include ABC News, NPR, World Wildlife Fund, (RED), BlackBerry, Lance Armstrong/Livestrong, Roger Federer, Lenny Kravitz, Kings of Leon, Tide, and Herbal Essences.
Yes, we implemented this on Lenny Kravitz website and social network destinations. Thank you to the Facebook development team who are incredibly easy to work with.