TEASER for the upcoming music video. Music Produced by Chris Noxx. Learn more about Bishop Lamont here.
Watch Video
We've been working with Bishop Lamont to re-vamp his web presence and the result is the NEW BishopLamont.com! Check it out!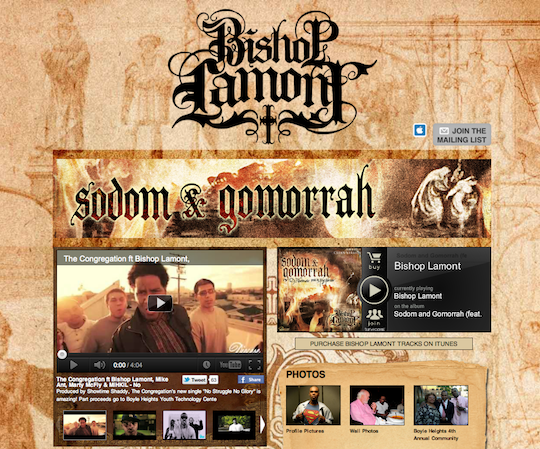 Read More…
Post Comment
The legendary reggae band the Wailers, historically known for being Bob Marley's band, have recently partnered with us on a project to benefit humanity. The Wailers' Aston "Family Man" Barrett, and lead singer Koolant have teamed up with reggae star Duane Stephenson to produce their new track, "A Step For Mankind" to benefit the united Nations' World Food Programme (WFP). The official music video for the track has been released and is now up for viewing on the Wailers YouTube channel.
Read More…
Post Comment
Categories
183 POSTS

153 POSTS

109 POSTS

87 POSTS

76 POSTS

54 POSTS

46 POSTS

44 POSTS

38 POSTS

37 POSTS

29 POSTS

29 POSTS

28 POSTS

27 POSTS

27 POSTS
Popular Posts
Archives
2016
1 POST

3 POSTS

1 POST

3 POSTS

6 POSTS

2 POSTS

4 POSTS

4 POSTS
2015
5 POSTS

3 POSTS

6 POSTS

1 POST

1 POST

4 POSTS

2 POSTS

6 POSTS

9 POSTS
2014
6 POSTS

13 POSTS

9 POSTS

4 POSTS

12 POSTS

10 POSTS

6 POSTS

6 POSTS

10 POSTS

9 POSTS

7 POSTS

12 POSTS
2013
7 POSTS

9 POSTS

6 POSTS

5 POSTS

10 POSTS

12 POSTS

6 POSTS

12 POSTS

11 POSTS

12 POSTS

11 POSTS

9 POSTS
2012
11 POSTS

14 POSTS

10 POSTS

10 POSTS

5 POSTS

2 POSTS

6 POSTS

6 POSTS

2 POSTS

5 POSTS

2 POSTS

5 POSTS
2011
8 POSTS

6 POSTS

7 POSTS

9 POSTS

16 POSTS

6 POSTS

9 POSTS

7 POSTS

6 POSTS

9 POSTS

10 POSTS

14 POSTS
2010
8 POSTS

12 POSTS

4 POSTS

9 POSTS

11 POSTS

20 POSTS

8 POSTS

11 POSTS

8 POSTS

15 POSTS

8 POSTS

4 POSTS
2009
8 POSTS

11 POSTS

20 POSTS

12 POSTS

1 POST

4 POSTS

1 POST
Authors
125 POSTS

65 POSTS

46 POSTS

44 POSTS

39 POSTS

18 POSTS

18 POSTS

17 POSTS

13 POSTS

12 POSTS

11 POSTS

10 POSTS

10 POSTS

9 POSTS

9 POSTS

9 POSTS

8 POSTS

8 POSTS

8 POSTS

7 POSTS

7 POSTS

7 POSTS

6 POSTS

6 POSTS

6 POSTS

6 POSTS

6 POSTS

5 POSTS

5 POSTS

5 POSTS

4 POSTS

4 POSTS

4 POSTS

4 POSTS

4 POSTS

3 POSTS

3 POSTS

3 POSTS

3 POSTS

3 POSTS

3 POSTS

2 POSTS

2 POSTS

2 POSTS

2 POSTS

2 POSTS

2 POSTS

1 POST

1 POST

1 POST

1 POST

1 POST

1 POST

1 POST